AOL Backup Software
AOL backup means nowadays "backup AOL mail", as once popular AOL messenger is obsolete. In this article, we will show how to backup AOL emails using Handy Backup, the powerful program for data keeping and restoration, with its built-in E-mail plug-in and the IMAP data exchange protocol.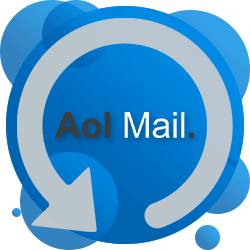 How to Backup AOL Emails to External Hard Drive: Sample Instruction
Here is a short instruction describing how to backup AOL mail by creating a task to save some AOL email folder content to external hard drive.
Open Handy Backup. Create a new task by a button on the main panel, a menu or Ctrl+N keys.
On Step 1, select a backup task, and then go to the Step 2.
Note: On Step 1, you can also select the advanced mode option. This option allows you doing extra steps and settings for making a backup task, including triggering a task by plugging a related USB external drive onto a PC.
Select the E-mail plug-in from the "E-mail" group. This plug-in uses AOL IMAP protocol.
Click onto the "Create a connection" option on the right panel.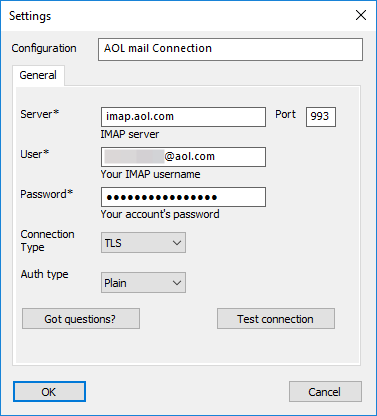 On the new connection dialog, enter the AOL server settings:
Server: imap.aol.com
Port: 993
User: Your account name
Password: Your password provided by AOL

*

Connection type: SSL/TLS enabled, but not StartTLS!
Click OK. Then click onto a new connection name.
In the data selection window, mark data to backup AOL email folder content.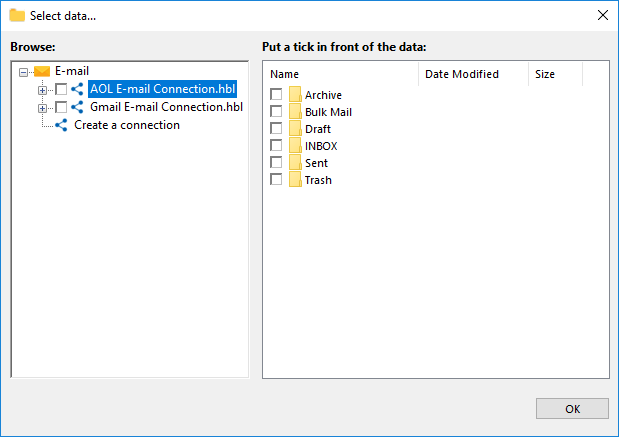 When you finish selection, click OK and return to the Step 2 of the task creation wizard. Click Next.
On Step 3, select the Computer plug-in as storage, and find an external USB drive in the file system list. Select an appropriate drive and, if you want, choose storage folder inside it.
Continue creating a task as described in the User Manual. All other steps are unspecific for AOL backup email tasks.
* To use AOL email in Handy Backup program, you must generate AOL password by on-site security app. See the next division of this article for more detailed description.
Generating AOL Passwords
To get an AOL password, please open the AOL homepage in a browser and run a password application (go to "Account Info" → "Account Security"→ "Generate app password").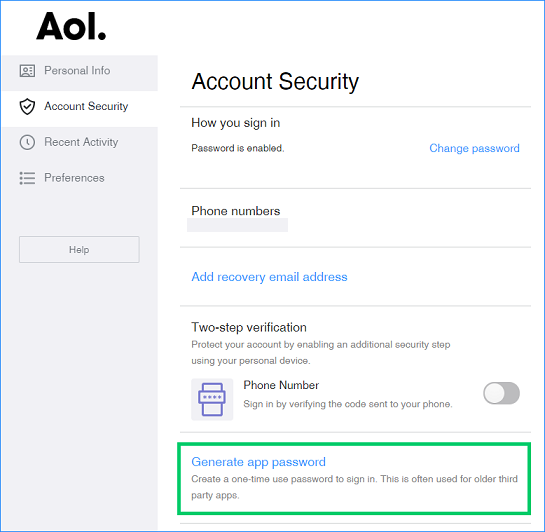 Select "Other App", create name (example, Handy Backup App) and generate a password. After receiving a password, you can use it with Handy Backup, as described above.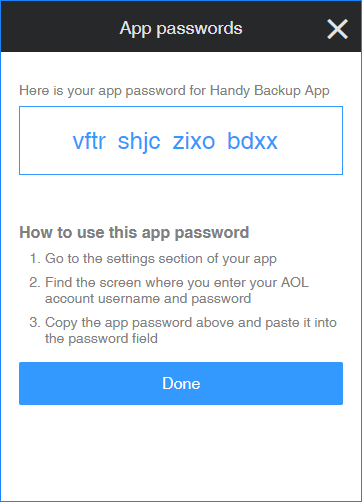 Attention: Please write and keep generated password somewhere, as you cannot access this password later from the website, nor through any application!
Recommended Solution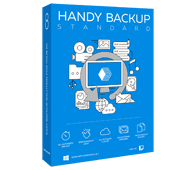 Version 8.5.0, built on September 19, 2023. 116 MB
Backup Software from Novosoft LLC. 39 USD per license.
The Standard edition provides the "E-mail" feature for AOL backup software implementations out of the box! Free 30-day trial version!
How to Restore AOL Backup
Create a restoration task on Step 1, instead of a backup task. On Step 2, select a file backup.hbi from your backup folder. This file contains all the data about your backup, including the default place to restore AOL email backup.
For recovering data to an original location, just continue creating a task.
For cloning your AOL backup emails to a different place, select "Advanced mode" on Step 1, and then click "Change location" on Step 3. Here, create or choose a connection with another IMAP email account or server, and select it to recover AOL backup data.
Note: We recommend to restore AOL email backup data to some other folder than those already existed in the destination account. This may be principal for protecting emails from an accidental loss.
Principal Advantages of Handy Backup as AOL Backup Software

Backup All AOL Email Folders Directly
Backup AOL email folder content requires no third-party bridge software. You can save and recover AOL email backup directly, reducing both time and used storage space by avoiding creating transitive copies of downloaded emails. You can even restore AOL email backup to another mail server!

Scheduled and Controlled AOL Backup
Handy Backup allows you scheduling AOL backup to start at exactly defined time and to repeat these tasks with an interval from minutes to several months. It also provides built-in tools for AOL encryption, partial (incremental, differential and mixed) backup, storing several versions of the same backup, etc.

Many Storage Types for AOL Backup
For AOL email backup, the Handy Backup utility provides many storage types. You can backup to Google Drive, save the message database on a local disk, an FTP server, a cloud or an external drive. You can also freely read, modify and copy unencrypted AOL email backup stored in EML format.
Other Crucial Features of Handy Backup
In addition to AOL backup features described above, Handy Backup provides some other possibilities and tools for smooth, quick and reliable backup, including:
Versioned backups with customized timestamps for automated folder processing;
Triggering tasks by some system event, such as logon or plugging a USB device into a computer;
Automatic repeating of scheduled tasks missed by some cause (if a user needs it);
Notifying a user about task results by email, by a report window or with a detailed log file;
Running pre-defined tasks in a silent mode as Windows services, or in a command-line mode.
Try this program by downloading a 30-day free trial version with a full set of functions for AOL Email Backup — just now!
Who uses our backup software?