eM Client Backup and Restore
eM client backup is necessary for any eM user. Handy Backup allows fully automating all eM Client backup settings and actions, providing tools for both local email backup via the POP3 protocol and substituting eM client IMAP downloads by direct access to an email service supporting IMAP.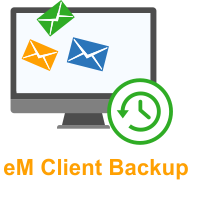 What Is eM Client Backup?

About eM Client
The eM Client is a simple to use but very powerful local email message client. It allows creating, receiving, sorting, searching and managing emails from different accounts. Besides its main function, it is also an organizer and planner, allowing almost all the things that allowed in MS Outlook, and more.

eM Client Backup Tool
To use eM Client backup, a dedicated program must have capability to copy files from one location to another (i.e., you can use a file manager for eM Client manual backup). Still, an automated, dedicated eM Client backup and restore solution, like Handy Backup, can save much time and give convenience.
The Basics for eM Client Backup and Restore
Hot Access to eM Client Backup Account
Handy Backup allows backup eM client without stopping it, i.e. performing "hot" backup, utilizing the VSS (Volume Shadow copying Service) of Windows to do it. As a result, you have no need to shut down and reload your messenger when performing eM client database backup.


Scheduling Automated Actions
With Handy Backup, you can backup eM client data by a scheduled period, with an exact time to start and an interval from minutes to months. You can also schedule a backup task to run by some system event occurred, such as user logon/logoff or insertion of a USB disk linked to this particular task into a PC.
Choosing an eM Client Backup Location among Many Storage Variants
In Handy Backup, you can store your data to one of many different backup vaults, including local and external drives, NAS and network disks, FTP, SFTP and FTPS servers, popular cloud services (Google Drive, Dropbox, BackBlaze, OneDrive, Amazon S3, Box), as well as S3 and WebDAV-driven cloud.

Other Features and Functions Useful for eM Client Backup
Besides the key options described above, Handy Backup has many other options and functions that can be very useful for backup eM client accounts. Here is the list describing some of these functions: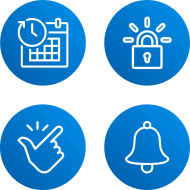 Compression and encryption: Built-in instruments to encrypt or archive your eM client backup.
Partial backup: Choose between incremental, differential and mixed full/differential backup.
Versioning: Keep some versions of the same eM client database backup simultaneously.
Time stamping: Mark the names your backups and versions with stamps of backup date/time.
Running as Windows service: Start Handy Backup in "silent" mode to remove user distractions.
Recommended Solution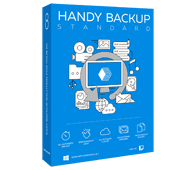 Version 8.5.0, built on September 19, 2023. 116 MB
Backup Software from Novosoft LLC. 39 USD per license.
The Standard edition is a perfect solution to backup eM client, allowing all backup options, as well as a good selection of storage plug-ins and IMAP connection features!
How to Make eM Client Backup Task Using Handy Backup
This technique assumes that you store your eM client backup emails on a local machine using the POP3 protocol. If you are utilizing IMAP, please read the next short section! Otherwise, you can perform the sequence of actions described below to make your eM client database backup task.
Open Handy Backup. Call the new task wizard by using the "Create" button on the Management Panel or the Ctrl+N key combo.
Select a backup task type on Step 1. Choose advanced mode for this task example. You can also stay in a simple mode to simplify eM Client backup settings, according to your current needs.
Note: Advanced mode adds a few extra steps to backup task creation, and allows using all functions and possibilities of Handy Backup just when creating a task initially.
On Step 2, open the Local or Network Drive group on the left panel. Click on the Computer plug-in. The new window will open.
Open the eM database folder. The default location for it is usually C:\Users\username\AppData\Roaming\eM Client. However, you may change it deliberately to another folder anywhere in the file system. In this case, you must know where it locates.
Note: This is the hidden folder, but Handy Backup always shows hidden files and folders!
Select or unselect the eM client backup account data in this folder by (un)marking checkboxes.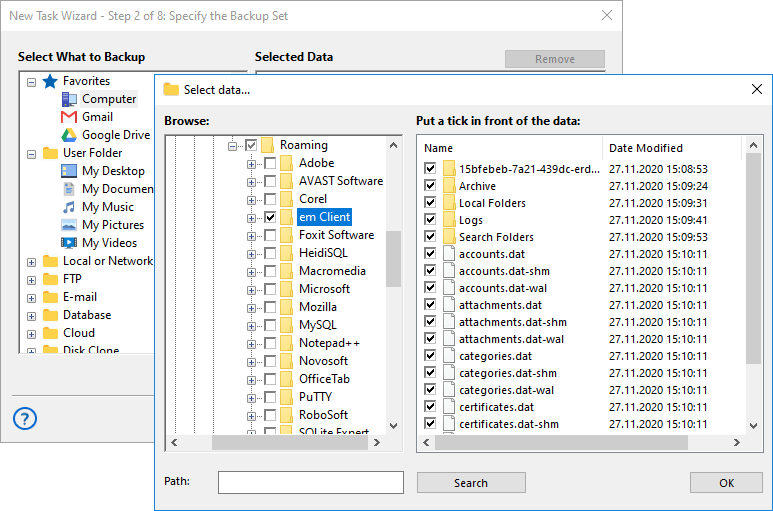 Click OK, and then click the "Next" button and proceed to Step 3.
On Step 3, select an appropriate destination for eM client backup.
On Step 4, you can set up such parameters as partial backup, versioning and creating time stamps. You can just skip it, applying default settings to your task. This step is available in advanced mode only.
On Step 5, you can encrypt and/or compress files before moving data to eM Client backup file location. You can skip this step if you do not need it.
Step 6 allows you to schedule your task by a time or, in advanced mode, trigger it to start on some system event (or several events).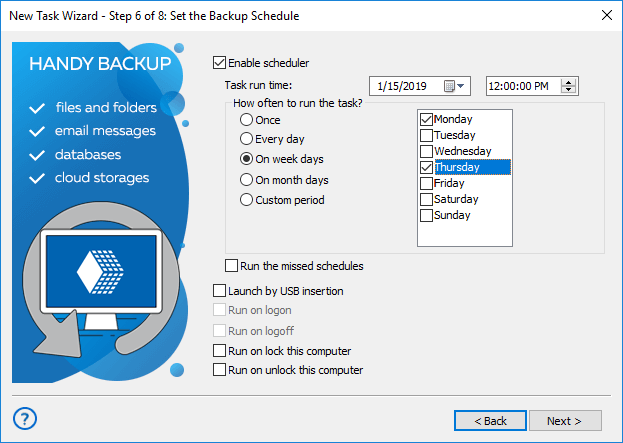 On Step 7 of an advanced mode, you can select other programs or batch files to start before and/or after a task. For example, you can stop and then restart your eM client to perform the "cold" backup.
On the last step, give your task a name and finish the task wizard.
eM Client IMAP Backup
When the eM client operates via IMAP, it downloads almost no information locally. Thus, the best way to backup eM client data when using IMAP is to connect with an email server directly using the "Email" plug-in in the "E-mail" data group on the Step 2. Please read more about email backup details.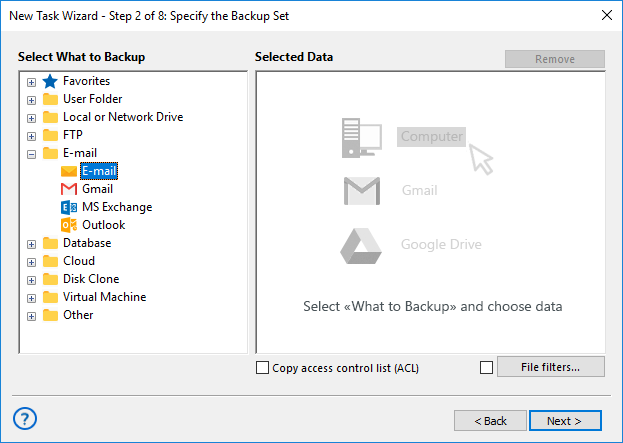 The eM Client for Linux

eM client is not a cross-platform solution. It works only under Windows 10, 8, 7 and Vista, as well as under modern server editions of Windows. Under Linux, you can use the eM client only with Wine. Therefore, to perform eM client backup Linux provides its own folders where eM stores its emails.
A Built-in eM Client Backup Utility
eM client backup emails through the built-in solution. This solution allows scheduling, supports both POP3 and IMAP account connections, and has many other useful features. However, it lacks both the storage selection and universality of Handy Backup, being a separate solution for eM client backup only!
Use eM Client backup with Handy Backup just now! Download a latest full version with all plug-ins and options for a 30-day free trial!
Who uses our backup software?