Google One Cloud Backup and Sync Tool
Google One backup is a modern solution that inherits to backup on Google Drive. The Google One is the next generation of Google Drive cloud storage, allowing much more integrated actions and tools than its precursor.
Handy Backup allows using Google One backup storage, as well as making backups from it.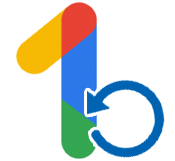 Advantages of Handy Backup as Image Backup Software

Shortly: this is a common cloud backup solution. You can use Google One to backup photos, making sync actions between a cloud account and a local drive (or some other storage), program an automatic Google One restore backup to another location, or do many other things — all with Handy Backup!
Key Advantages of Google One Backup with Handy Backup

Complete Automation
Handy Backup uses the Google Drive automatic backup plug-in to access Google One both as source or storage. This plug-in is extremely easy to use, fast and reliable. In addition, you can add more automation by scheduling your task to exact starting and repeating time, as well as by system events.

Complete Security
Handy Backup uses the secured Google One backup API to access this storage and making data exchange. You can add even more to this security by using internal compression and encryption tools, or by calling any external programs that you want just before or after a Google One auto backup task.

Complete Convenience
Handy Backup provides a lot of options for you when you making Google One auto backup tasks. Save time and storage space by making incremental, differential or mixed backup, store some versions of a dataset, run tasks in "silent" mode with no GUI, take email notifications… you can do all what you want!

Complete Freedom
Compared to official Google One sync tool, Handy Backup allows using any folder and any storage as both data source and backup destination. Users have no restrictions to operate with just one synchronized directory; instead, they can store backups to and from everywhere!
Recommended Solution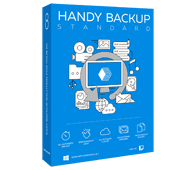 Version 8.5.0, built on September 19, 2023. 116 MB
Backup Software from Novosoft LLC. 39 USD per license.
The Standard edition for home users already contains the Google backup plug-in out of the box, allowing making Google One auto backup, and recovery, as well as data synchronization!
How to Use Google One Backup Storage in Handy Backup?
To store some data as Google One cloud backup, please follow the next instruction:
Make a new backup task and select "Backup" task type on Step 1. You can operate in either simple or advanced mode, as you need.
On Step 2, choose those data you want to back up.
Proceed to Step 3 and select the Google Drive plug-in. You will see the next window: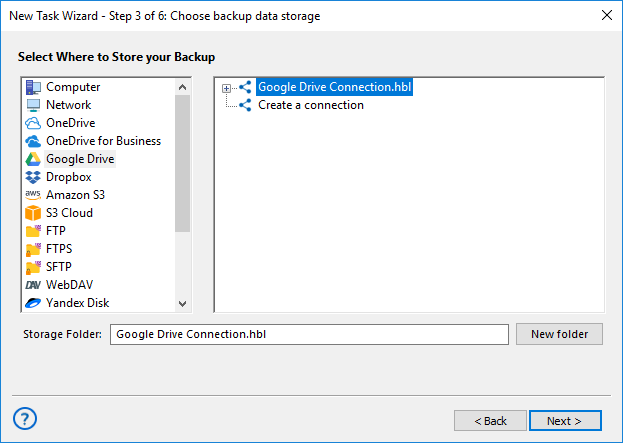 Click onto the "Create a connection…" string; it will open an account settings dialog.
Click on the "Connect to Google Drive" button. The program will redirect you to its internal browser window, where you must enter to your Google One account.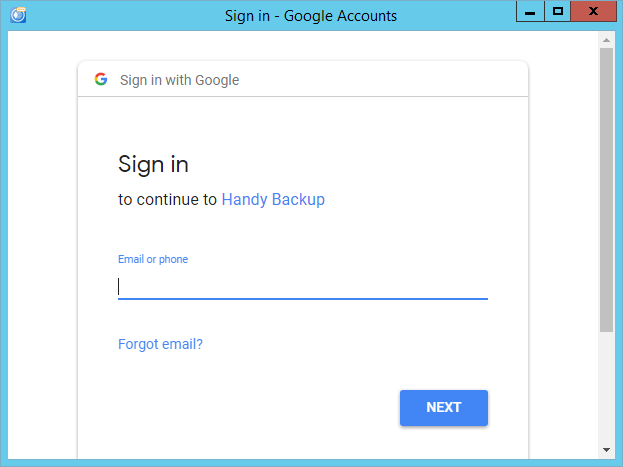 Allow Handy Backup to use this Google One account. Return to the main task wizard window.
Click on your Google One configuration name. Handy Backup will use it as data storage.
Continue creating your task, as described in the User Manual. That is all, well done!
How to Use Google One Backup Storage in Handy Backup?
To use your Google One account as a backup source, please click onto the Google Drive automatic backup plug-in in the Cloud group on Step 2 of a new task wizard.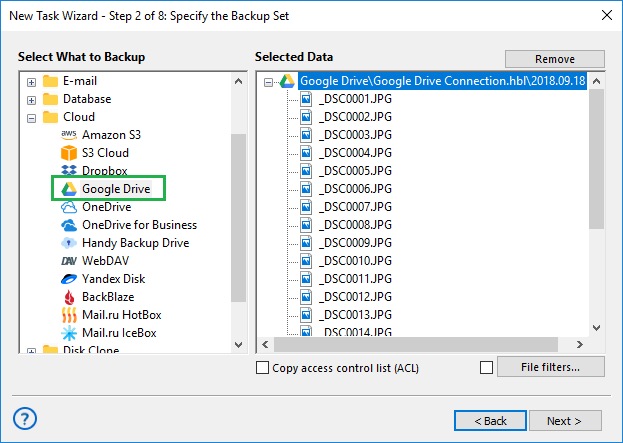 Tip: Creating a connection on Step 2 is just the same procedure as described above for Step 3.
Recovering and Synchronizing Google Backup Data
Handy Backup also allows auto restoring Google backup data, either to an original Google One account or to completely different place that is available through any storage plug-in. Even more, you can synchronize your data between a Google One account and any other storage that you want!
Native Formats of Google Backup Files
If you do not want to restore your entire backup, e.g., when you need just one or two files, remember that Handy Backup stores unencrypted files in native formats. This means that you can open, browse, modify or even restore any single file or folder manually with any file explorer software!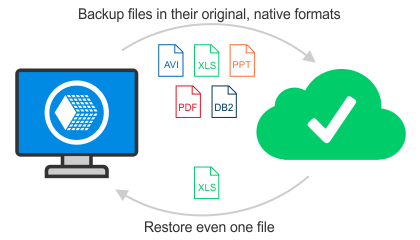 Google One Backup and Sync Functions
As for any typical storage solution, you can do not only backup to Google One but also synchronize its account (or some account subfolders) with other storage. For this action, create a Handy backup synchronization task on Step 1, and then select sync direction.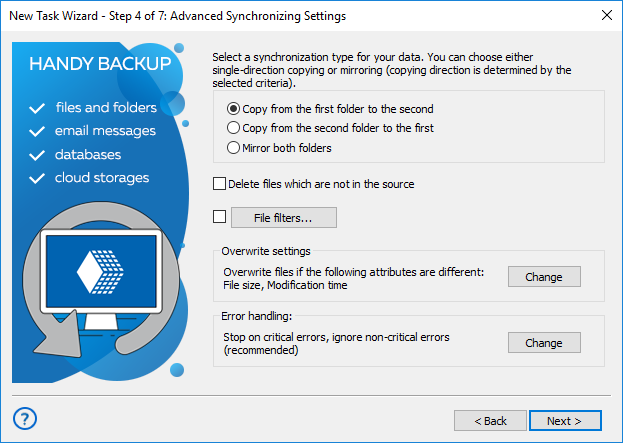 The one-way synchronization allows Google One backup PC folders in a simplest method.
The mirror (two-way) sync allows fully synchronizing content between a Google One account and some other storage or folder.
Note: Due to constant upgrades of Google One security, the Handy Backup service for this cloud can be temporary unavailable. We hope to solve this problem completely as quickly as possible!
Experience the might of Google One online backup with Handy Backup! Download and install a newest version with all plug-ins and tools for a free 30-day trial!
Who uses our backup software?