If you have a large collection of media files on your Windows computer, such as photos, videos, and music, it′s important to have a reliable media backup solution in place to ensure that your media backup data is protected against accidental loss or damage.
A media backup software is a great way to automate the process of backing up your media files, so you don′t have to worry about manually copying and pasting files to an external hard drive.
Version 8.5.0 , built on September 19, 2023. 116 MB
30-day full-featured trial period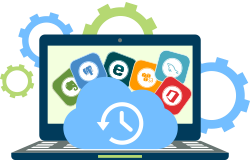 When choosing a media backup software for Windows, there are several factors to consider. First and foremost, you′ll want to ensure that the software supports the types of media files that you want to backup. For example, some media backup software may only support photos and videos, while others may also support music and other audio files.
You′ll also want to consider the backup options available, such as incremental backups, which only backup changes made to your media files since the last backup, or full backups, which backup all of your media files each time. Additionally, you may want to look for a media backup solution that offers encryption or other security features to protect your media backup data.
Another important factor to consider is the ease of use of the media backup software. Look for software that has an easy-to-use and intuitive interface and is easy to navigate, even for novice users. It′s also a good idea to look for software that offers automatic scheduling options, so you can set up backups to occur at regular intervals without having to remember to do it manually.
Choosing the right media backup software for your Windows computer is an important decision that can protect your valuable media backup data. Consider the types of media files you need to backup, the backup options available, security features, ease of use, and scheduling options when selecting a media backup solution that meets your needs.
What to Consider When Choosing the Backup Media Solution:
types of media files
backup options
security features
ease of use
scheduling options
Handy Backup allows you to back up not only media files, or specified folders. It has multiple presets to backup My Documents, Favorites and different popular applications (e.g. it can backup Windows Media Player or Winamp with all its settings). The software is designed to operate under OS Windows 11/10/8/7 and supports a great variety of local and remote backup storages.