Nextcloud Automatic Backup and Restore via WebDAV
Nextcloud backup allows copying and recovering data by using Nextcloud storage services, stable and controllable clouds. For accessing Nextcloud backup data directory, Handy Backup provides an easy-to-use unified WebDAV plug-in and a couple of additional tools simplifying and automating all actions.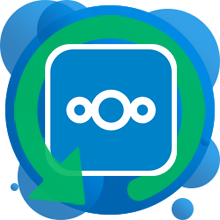 Advantages of Handy Backup for Nextcloud Backup Data Tasks
Nextcloud WebDAV Plug-in for Windows and Linux
The unified WebDAV plug-in allows Nextcloud backup, recovery and synchronization, as well as moving files between a Nextcloud backup data folder and other storage (e.g., Nextcloud backup to Backblaze B2 cloud service, to Amazon S3, OneDrive or to other WebDAV-based storage via HTTPS or HTTP).
Scheduling Nextcloud Auto Backup
You can schedule Nextcloud backup and restore tasks to run at an exactly defined time and to repeat in exactly determined interval from many months to a single minute. In advanced task wizard mode, you can also link a Nextcloud backup task with some system event such as user logon or system start.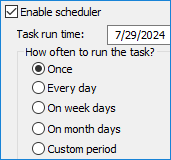 Easy-to-Use Interface and Convenient Controlling
Users create and control all Nextcloud backup tasks via the standard GUI that allows creating new tasks in simple or advanced wizard mode, controlling task execution progress, taking reports about backup task activities, restart missed tasks, using "silent" mode to background backup and doing many other things.
Recommended Solution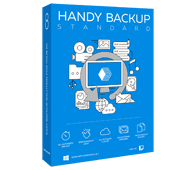 Version 8.5.0, built on September 19, 2023. 116 MB
Backup Software from Novosoft LLC. 39 USD per license.
All Handy Backup solutions, including the most affordable Standard edition for home PC, allow utilizing the Nextcloud WebDAV backup interface.
How to Backup with Nextcloud in Handy Backup?
To make a Nextcloud automatic backup task, please use the next instruction.
Call a new task wizard by clicking the "New" button on the main panel or by pressing Ctrl+N.
Select a backup task on Step 1.
On Step 2, select data to store in Nextcloud backup data directory.
On Step 3 select the WebDAV plug-in on the left panel. Click Create a connection to open the connection dialog window.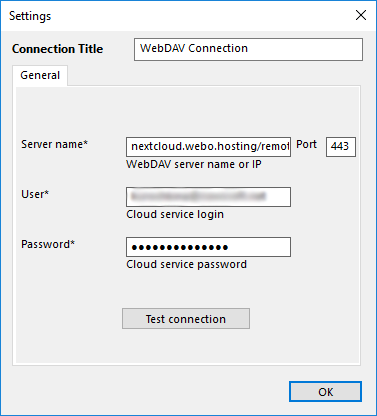 Input your connection parameters:
Connection Title: select a name for your Nextcloud backup connection.
Server name: the name of a Nextcloud server that you will use.
Port: By default, this is port 443 for protected SSL connection.
User: your username on Nextcloud server.
Password: your password for Nextcloud account.
Click OK. Select your new connection in the list of connections by clicking on it.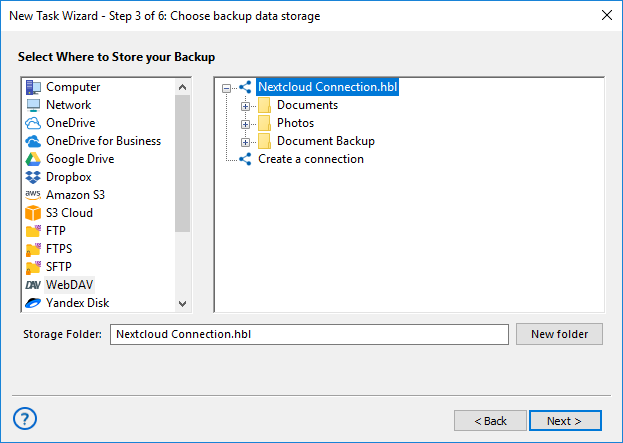 Select your Nextcloud backup data folder.
Again, click OK and then "Next". Continue creating a task as described in the User Manual.
On the final step, give a name for your task, something like "Nextcloud backup data task".
Well done! Now your task will make Nextcloud backup every time when it will start (either manually or by schedule, if you selected some Nextcloud automatic backup scheme in the scheduling step on the New Task Wizard).
Nextcloud Restore
You can also make an automatic task for Nextcloud recovery form backup.
Call a new task wizard, select a recovery task on Step 1.
On Step 2 select WebDAV plug-in and click on it.
Select the Nextcloud connection or create a new connection.
Now choose your Nextcloud backup data folder and select a file backup.hbi in it.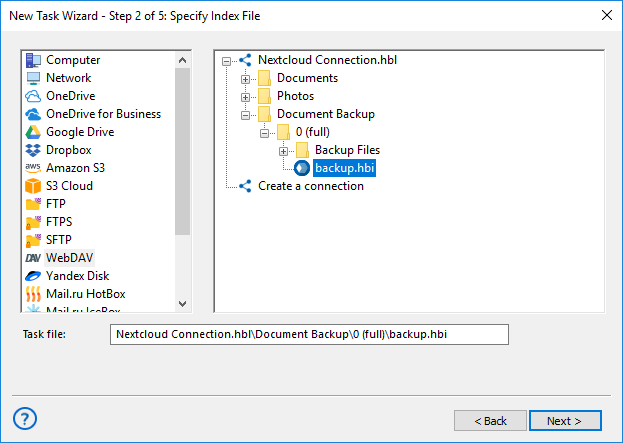 In advanced task wizard mode, you can also select a new destination for a Nextcloud restore task! To do it, on Step 3 click the "Change Location" button and select a new destination for your Nextcloud backup copy.
On the final step, give a name for your task, something like "Data Recovery from Nextcloud".
Tip: Handy Backup preserves native formats for unencrypted backup files. Therefore, you can open your Nextcloud backup data directory and work directly with all files in a backup copy, including browsing, copying, modifying, moving or even deleting these files freely.
Handy Backup is an efficient and convenient Nextcloud backup solution.
Try it by downloading a 30-day free trial version just now!
Who uses our backup software?