Windows 8 Backup Software
Windows 8 backup allows saving a complete image of Windows 8.1 (or 8) as a file dedicated for recovering to some other drive or partition, as well as keeping copies of some crucial system files.
Handy Backup provides all tools for Windows 8.1 backup in a unified, easy-to-use interface.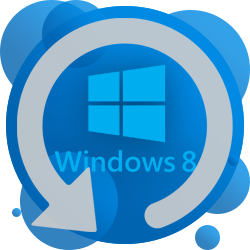 Disadvantages of Built-in Windows 8 Backup Solutions
1
Large disk space and time-consumption. Windows 8 backup usually takes a lot of space. Thus, you need a big disk to fit it and a considerable time to complete the backup. If you are going to do a cloud backup, you will also need fast Internet connection.
Because of that, differential backup technologies are becoming much more relevant for Windows 8 backup, it is a good way to much storage space and backup time, although this technology is not present in Windows 8 by default.
2
Special software for restoring. Windows 8 as well as other operating systems can be saved directly while working (even system files) with a built-in Windows 8 backup software.
Therefore, if you need to restore the system, you will not be able to run a recovery program on non-working operating system, so you will need a software to boot in recovery mode.
3
No System Image Recovery. Windows 8 has a new solution for a backup called "File History". Windows 8.1 supports no older Windows backup tools.
Windows 8.1 allows you to import your old backups from Windows 7, but you cannot create a new backup by using the function "System Image Recovery" (recovery from a system image).
Therefore, if you want to create a system image backup or make a recovery from a system image with some extra options, then you must rely to use third-party Windows 8 Backup Solution.
Migrating from Windows 7 to Windows 8
Another reason you should do a backup of the operating system and all programs installed is a migration from Windows 7 to Windows 8. During the migration, you may experience the following difficulties:

Your computer is not good enough for Windows 8. System requirements for Windows 8 are not much higher than Windows 7's, but if your Windows 7 system is running close to the limits, you may encounter some troubles.

Your software and hardware may not be compatible with Windows 8 system. Some software may not work properly on the new system (even if it still have formal support).
There are a lot of changes (for example, in the file structure) in Windows 8. Also you need new drivers for your hardware. If your equipment is quite old, you might find no drivers.
If you select migrating from Windows 7 to version 8 via upgrade, the system will automatically save all settings, applications and data. However, you will save obsolete data (these that you have no need longer) along with other files, "eating" your disk space.

Because of that, many people select Windows 8 installation "from zero". It requires making preliminary backups of all important data and drivers. You will be able to use them when needed. Planning 7-to-8 Windows migration? We have a perfect solution here to do all required backups.
Windows 8 Backup Features in Handy Backup
There are many Windows 8 backup programs, but Handy Backup is the one of the Windows 8 best backup and restore software solutions. The amazing fact is almost every Windows 8 backup feature work perfectly right from start and require no error correction.

Disk image
Windows 8 disk imaging is one of the most preferable and efficient methods of data protection. Software also lets you to do a "file and folder" backup assumes the data is restored through the file system.

Fully automated backup
Use an advanced built-in scheduler to set up automatic backup tasks. You can run a task at an exact time, repeat it for pre-defined intervals, or even trigger task to start by system events or run a program as Windows 8 service!

Any type of backup
You can perform all types of backup (full, incremental, differential and mixed backup) for Windows 8 backup files. It is very important because of the size of Windows 8 backup. This technology also increases speed significantly.

Remote backup
The best Windows 8 backup solution for keeping your data safe is putting the Windows 8 backup to the external drive, FTP or to some cloud storage. Handy Backup has many options for offsite backup.

Safe and secure
There is an encryption and password protection, a bunch of safe storage protocols including SFTP, FTPS and S3, and possibilities to run external security software. Choose what you want to increase data security.

Disaster recovery
If you are looking for the best Windows 8 backup software, do not concentrate on backup only and always remember about restoring. Handy Backup has a special recovery module that you can use to boot from USB for restoring the system.
Recommended Solution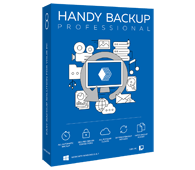 Version 8.5.0, built on September 19, 2023 . 116 MB
Backup Software from Novosoft LLC. 89 USD per license.
Use the Professional edition for Windows 8 backup and recovery. All functions and plug-ins for a workstation or an advanced PC user! Free 30-days trial version!
How to Make Windows 8 Backup?
For saving an entire system image, please create a new backup task (either in simple or advanced task wizard mode) and refer to the "Disk Image" or the "System Recovery" plug-in in the "Disk Clone" group.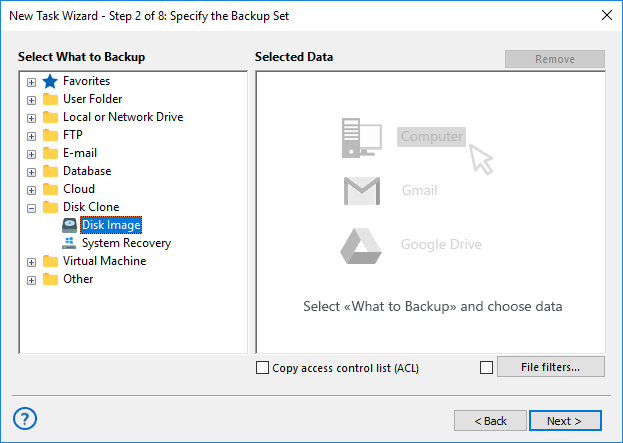 Continue creating a task as described in the User Manual.
Note: you can save a Windows 8.1 backup or Windows 8 backup on an entire drive only as a whole (no partial backup). Still, you can save and keep some versions, create time stamps, encrypt image files etc.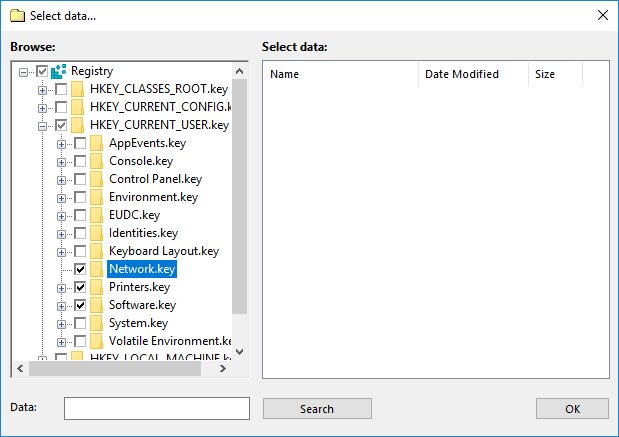 To save only some Windows 8 backup files, libraries or even a registry, please refer to appropriate plug-ins on Step 2. The "Registry" plug-in is in the "Other" group, when you can find plug-ins for saving files, folders and user folders in appropriate groups, mainly in the "Local or Network Drive" group.
These plug-ins allow incremental, differential or mixed (cycle) backup fully.
Review About Windows 8 Solution by Handy Backup
Download Handy Backup, get a personal experience with this simple and efficient Windows 8 backup and restore software!
Who uses our backup software?