Dropbox Plug-in
Dropbox feature allows saving Dropbox files and, reversely, store your backup copies to Dropbox.
Using the Dropbox Plug-in as a Backup Storage
To create a backup task using a particular Dropbox account as a storage, please use the following instruction:
Create a new backup task by selecting a menu item or by pressing Ctrl+N.
On a Step 2, choose data you want to save to Dropbox.
On a Step 3, select the "Dropbox" feature. Use the Create a connection option.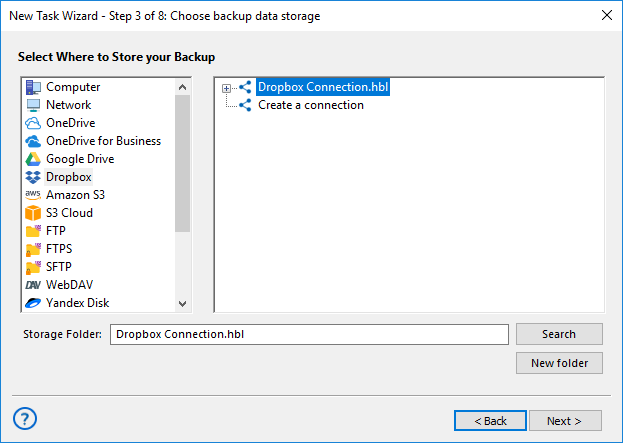 Click "Create a connection..." option and enter to the account settings dialog.
Click on the "Connect to Dropbox" button. The program will redirect you to the browser and open a Dropbox login window.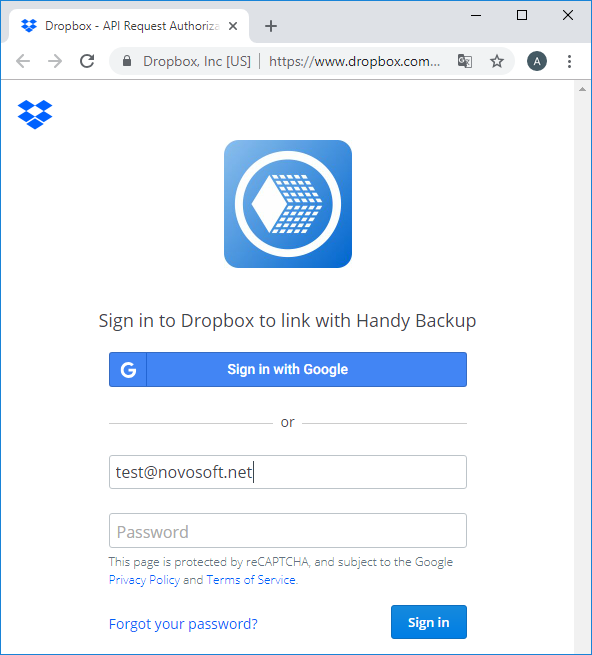 Enter your Dropbox account connection parameters, e.g. username/email and password.
Allow Handy Backup to connect with this particular Dropbox account.
Return to Handy Backup. The program will test your established Dropbox connection.
If the connection has a success, click on OK to return, then click twice on your Dropbox configuration to use it as a data storage.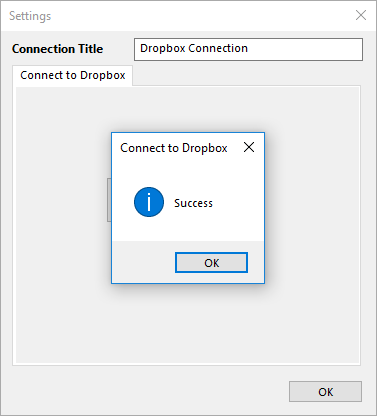 Click on the "OK" button to continue creating your tasks. All next steps of the task creation are unspecific for Dropbox-using tasks.
Backup Dropbox Account Content
Use an existing Dropbox configuration created as described above, or create a new configuration on a Step 2 instead of a Step 3 to save Dropbox files from your account. You can backup Dropbox to an external hard drive, save files online (e.g. on a NAS) or into a folder somewhere on your computer.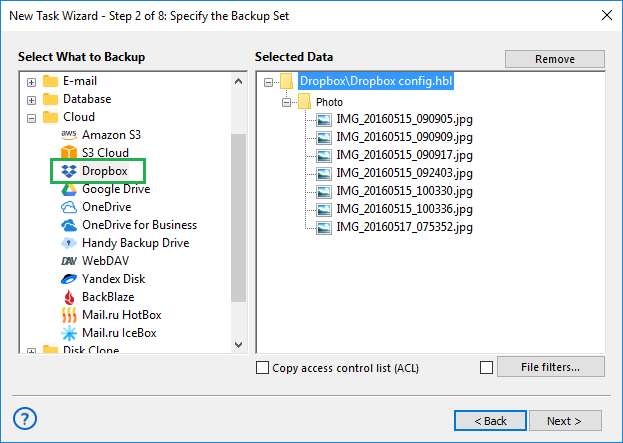 Restoring from a Dropbox Account
Users can apply the "Dropbox" feature for auto recovery from Dropbox. In case of restoration, the task often uses the Dropbox configuration created previously for backing up; in this case, just select a needed configuration from a list that opens in the "Dropbox" feature.
Who uses our backup software?